Accelerated Learning, Talent Development, & Experiential Learning by The Training Oasis, Inc.
Specializing in Experiential Learning,
Accelerated Learning, & Instructional Design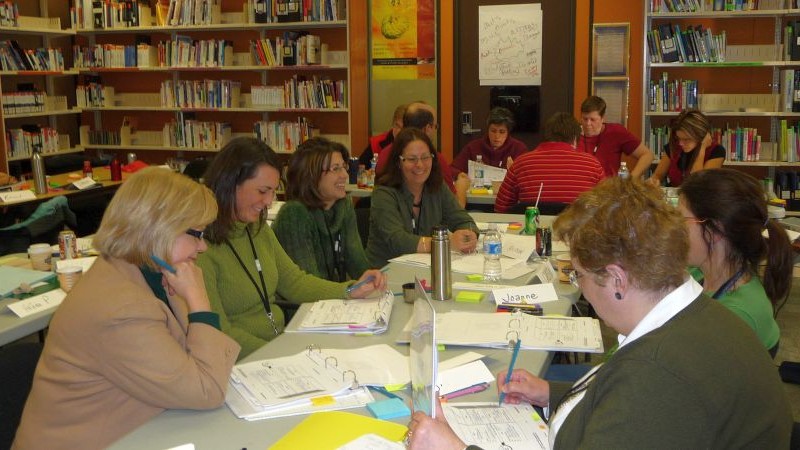 ---
We are a Toronto (Canada) based consulting firm specialzing in training, talent development, and instructional design.
ALL inquiries are handled from Toronto.
---
Training & Development: A Dying Art
Business training is provided far less than it should be, often with excuses of constrained time, money and resources. But this means of "cost savings isn't recommended....The best companies employ ongoing training as a 'must have'....

"The lost art of business training" The Boston University Questrom School of Business
For well over a decade ago, cuts to training and development departments have been deep. All too often, subject matter experts and suppliers are now tasked with delivering "training". Without the tools or expertise to design effective training, many sessions end up being"information dumps", crammed with as much content as possible delivered in increasingly short timeframes.
To reduce the amount of time employees are away from the job for training, many organizations have scrapped all or most of their classroom training put all of their eggs in the e-learning basket. Usually, IT professionals, who are prime on e-learning design projects, have little familiarity with adult learning principles. It's not their areas of expertise. To save money, a lot of instructional design is outsourced to foreign, low wage rate countries. The end result is tedious page turners that produce little in the way of actual learning.
Step into Our Oasis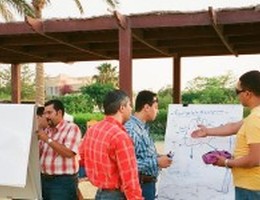 The Training Oasis, Inc., a Toronto based consulting firm, specializes in accelerated learning, talent development, and experiential learning to help rapidly changing companies generate measurable, bottom line results. The Training Oasis, Inc. helps managers and professionals hone their skills to ensure that their organizations thrive in our fiercely competitive and turbulent economy.
Since 1996, we have offered a range of experiential learning, accelerated learning, and management development programmes.
The Training Oasis Inc. designs and delivers accelerated learning programmes geared for fast-paced, rapidly chaning organizations. From conservative to creative, we offer solid content that is seasoned to fit the taste of your group. Whether you're looking for customized accelerated learning programmes, creative ideas to "spice up your training", custom instructional design services with a special flair, a train the trainer programme, or a unique style of facilitation for an important meeting, we have something to offer you.
Let us Bring Our Oasis to You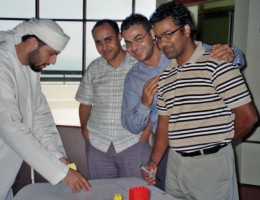 The Training Oasis, has designed and facilitated experiential learning and accelerated learning programmes for rapidly changing organizations from over 9 countries.
Our clients have included Ingram Micro, Novo Nordisk Canada, Telus Mobility, Bell Mobility, IBM, Aviva Insurance, Caribbean Development Bank (Barbados), National Bank of Dominica, OCBC Bank (Malaysia), Permodalan Nasional Berhad (Malaysia), and Penang Port (Malaysia).
During 18 tours of Asia, we have delivered accelerated learning programmes to over 2000 executives, managers, and professionals in Malaysia, Singapore, Thailand, and India.
Our facilitators specialize in experiential learning, accelerated learning, train the trainer workshops, instructional design, and private coaching for companies all over the world.
I don't think I've ever taken a course where I've seen such tangible results.

Morris Shawn, CEO, Roadpost
Anne has tremendous expertise as a team building specialist and presentation skills coach. I hired Anne to train our in-house trainers in the delivery of training programmes. It was an excellent investment. Not only did she connect with the group immediately, but she also had them fully engaged to the very end. I also personally benefited by sitting through a few of her sessions. I would certainly hire Anne again.

Phillip Brown, Director, Director, Human Resources & Administration at Caribbean Development Bank
Creativity and innovation are Anne's trademarks. Her writing, design, facilitation and accelerated training skills enable her to become involved in many initiatives including writing and designing presentations and speeches for members of the executive team.

Marc C. A. Berwald, Former Director, Education and Development, Bell Mobility
We hired The Training Oasis, Inc. to design a course on Instructional Design....Anne is a very knowledgeable and creative instructional designer. She knows how to address the participants' needs and make technical training more interesting. I have no hesitation in recommending Anne for any future project.

Dunia Wojtarowicz, CGU Group Canada Ltd. (Toronto)
I found the course very informative. I improved my interviewing skills tremendously by applying the techniques I learned.

Patricia Wong, Assistant Manager, HR OCBC Bank (Kuala Lumpur, Malaysia)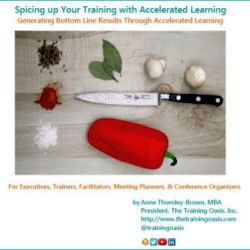 Hot off the Press!
Our new e-book is now ready for purchase.
Spicing up Your Training with Accelerated Learning (PDF)
For a fraction of the price of a train-the-traier session, this 132 page e-book is jampacked with session starters, group exercises, games, brainstorming exercises, energizers, and more to boost the effectiveness of training and conferences!
Download a Preview (PDF)
Have you ever considered a career in training and development?
We are frequently asked for advice. So, we've pulled together our success strategies in our Training & Development Career Tips Series.
---
Oasis = a place of calm and growth in the midst of turbulence.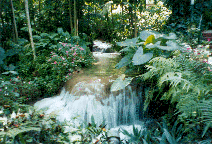 A tropical oasis is the perfect metaphor for the learnng environment and experiences that we create for our clients.
We welcome and offer incentives for referrals.
---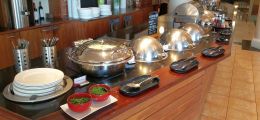 Visit our Accelerated Learning Smorgasbord for Ideas to "Spice up" your Training
---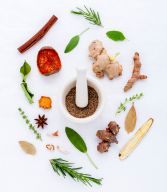 Special Offer: Spice of Month Accelerated Learning Articles

Pay to view per issue or Access all 28 archived issues
of Spice of the Month Accelerated Learning Ezine
Access our Featured Spices (Free Samples)
Articles in our archive are presented in our old site format.
---
Interactive and highly experiential learning and development programmes for managers and professionals.
Interactive train the trainer programmes offering maximum practice and coaching. Master experiential learning and accelerated learning techniques.
We custom design or re-design training to create highly interactive experiential learning. For companies on a budget, we prepare complete training blueprints to support in-house development.