Accelerated Learning & Experiential Learning by The Training Oasis, Inc.
Specializing in Experiential Learning,
Accelerated Learning, & Instructional Design
---
We are a Toronto (Canada) based consulting firm specialzing in training and development and instructional design.
ALL inquiries are handled from Toronto.
---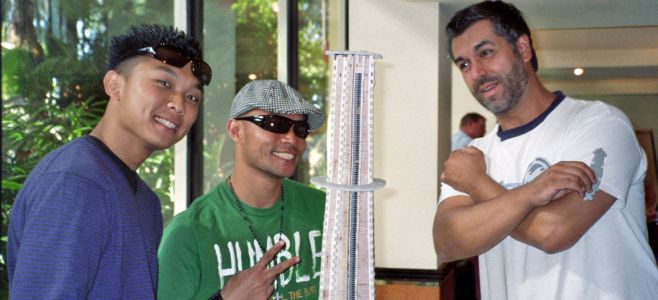 96% of What Many Companies Spend on Training....is a Waste of Money!
That's a STAGGERING figure!
Is your company throwing away 96% of its training and development investment?
Is the primary method of instruction in your company lecture and presentation?
Has your company put most or all of its eggs in the e-learning basket?
Consider these figures.
We Remember:

10% of what read
20% of what we hear
30% of what we see
80% of what we do

Edgar Dale
Unfortunately, the research is not encouraging. With traditional, presentation based, training and development, it's virtually in one ear and out the other.
So whether you park learners in their seats and lecture at them all day, or have them simply read from a glorified page turner on a computer screen, retention will be minimal.
Studies have also indicated that if there is:
No coaching or follow up by the immediate supervisor
No opportunity for skill practice
Within 30 days, employees forget 80% of what they've learned.
So, what's the bottom line?

20% x 20% = 4%
20% x 10% = 2%

Your people will retain only 4% of what they learn.
Over the past decade, this has left training and development departments vulnerable to cutbacks and downsizing in what has been a turbulent economic client and time of uncertainty.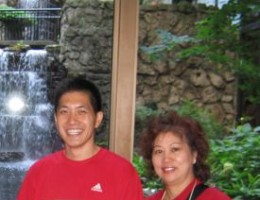 It doesn't have to be that way.
By actively engaging participants in the learning experience, companies can boost retention, skill mastery, and transfer of learning to the job. Careful selection of venues can greatly contribute to creating the right ambiance for learning.
Boost the return on your training and development investment with accelerated learning!
When your company and the world around it are changing rapidly, finding the time for training can be a challenge.
Our experential learning programmes will help you demonstrate your value to your senior management team. We'll prepare your team to respond to the demands of accelerated change.
We offer experiential learning, accelerated learning, train the trainer,
instructional design, and coaching services to companies all over the world.
---
How we can Help
Our interactive and effective accelerated learning programmes deliver more training in less time, with a clear impact on your bottom line.
Based in Toronto, The Training Oasis, Inc. specializes in experiential learning and accelerated learning to help rapidly changing companies generate measurable, bottom line results from their training.
We'll:
Cut the time that your employees are away from their jobs for training by 20 - 50%, without cutting critical content.
Boost retention by up to 34% by creating vivid and memorable learning experiences.
Streamline your programmes and double their effectiveness.
Help participants grasp technical and complex material more easily.
We can facilitate our programmes directly or train and license your internal trainers. Through our Instructional Design services All of our programmes can be fully customized to fit your industry and corporate culture.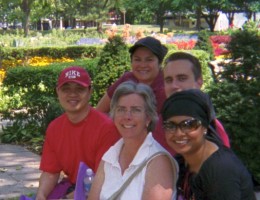 Who We've Helped
We have offered accelerated learning courses and experiential learning programmes around the world including in Canada (Toronto, Markham, & Ottawa, Ontario, Montreal & Gatineau, Quebec), Asia, Dubai, Jamaica, Barbados, and Dominica.
During 18 tours of Asia, we have delivered accelerated learning programmes to over 2000 executives, managers, and professionals in Malaysia, Singapore, and Thailand.
Our clients have included Bell Mobility, TELUS Mobility, IKEA, Novo Nordisk Canada, CDBRA, OCDC Bank (Malaysia), Penang Port (Malaysia), Permodalan Nasional Berhad, (Malaysia), Cadillac Fairview, Manulife Financial, CIBC, Durham College, OISIE, and Regional Municipality of Halton.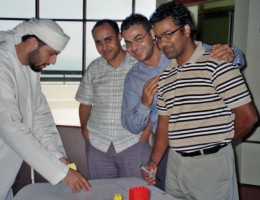 You just keep getting better all the time. Your advice drawn from your experience, on how to hand in there and persist as learning revolutionaries, was a great message and very well received.

David Meier, Center for Accelerated Learning
Anne has tremendous expertise as a team building specialist and presentation skills coach. I hired Anne to train our in-house trainers in the delivery of training programmes. It was an excellent investment. Not only did she connect with the group immediately, but she also had them fully engaged to the very end. I also personally benefited by sitting through a few of her sessions. I would certainly hire Anne again.

Phillip Brown, Director, Director, Human Resources & Administration at Caribbean Development Bank
Thank you for your assistance in developing a customized programme for new hires or internal transfers into the corporate account arena. The feedback from your sessions with team members was extremely useful, it helped up size the gap between staff expectations and what we are delivering and allowed us to identify, and focus on opportunities for improvement.

Anne deCasseres, Manager, Corporate Sales, Bell Mobility (Toronto, Ontario, Canada)
Great way to build teamwork skills. Accountability was a big part of the lesssons learned. Enhthusiastic and professional facilitators.

Benjamin Lee, Global Middle Office CIBC
I found the course very informative. I improved my interviewing skills tremendously by applying the techniques I learned.

Patricia Wong, Assistant Manager, HR OCBC Bank (Kuala Lumpur, Malaysia)
The emphasis on practicing the skills learnt, though at times painful, was very useful. Ultimately I was left with a feeling of having done a good beginning....Anne has an excellent grasp of the subject. The expert in her really commanded my respect.

M B Sakorkar, LTITL (India)
What can you Expect From us
To create the right ambiance for learning, we administer participant profiles and mini-learing styles inventories. Depending on the profile of the group we can incorporate a variety of indoor and/or outdoor energizers into the agenda. Consult our Accelerated Learning Smorgasbord for examples.
We work with companies that need to deliver training on-site due to budget constraints and orgnizations that can afford stunning off-site venues. Some companies make these arrangements in-house. Our President and Founder blogged for Cvent for 4 1/2 years and did weekly destinations and meeting venue features. We can definitely help clients who book their training with us to find an approprite venue that will be conducive to learning.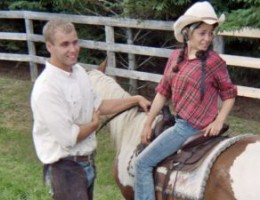 Our Menu of Accelerated Learning Courses
Accelerated Learning: The term accelerated learning refers to the results of interactive, participant centered learning. It's based on:
an understanding of how the brain processes information and experiences during the learning process.
identifying and catering to diverse learning styles
keeping participants alter and engaged in the learning process by stimulating the senses
Accordingly, our sessions incorporate props, music, bright visuals, and themes to create a vivid and memorable learning experience.
Experiential Learning: Participants learn through active involvement in a set of experiences and reflecting on them to unpack key learnings.
For this reason, our programmes feature action learning, a high ratio of practice to theory, frequent review, and peer coaching.
Competency Based Approach to Behavioural Interviewing
To thrive in the face of accelerated change and an increasingly competitive market, your company must attract and retain a team with much than solid technical skills. The members of your team must also be able to:
embrace change
tolerate ambiguity
demonstrate flexibility
thrive in a fast paced environment
If these skills are not assessed during the selection process, this can lead to poor hiring decisions high entry level turnover.
Our Competency Based Behavioural Interviewing programmes uses accelerated learning and experiential learning to significantly boost mastery of the skill needed to conduct efffective interviews and improve hiring decisisons.
During this upbeat course, participants prepare to "shoot a movie" about an important business meeting. From the initial casting call to the wrap party, they are so busy having fun that they forget about their nervousness. By the final "take" they've made dramatic improvements and mastered the art of developing and delivering Star Quality Presentations. We can offer this at a film studio in Toronto.
The Changing Face of Diversity
Far too often, the term diversity is a smoke screen that covers up the real barriers that stand in the way of workplace equity. During this highly interactive and upbeat session, we will take a hard look at personal and organizational practices to develop proactive strategies for promoting true diversity. During breaks, we will take a trip around the world and sample food, music and travel by video to various countries. This will underscore the fact that true diversity is a celebration of differences and similarities.
Experiential Learning Menu
Click Panels to Open & View Details
Interactive and highly experiential learning and development programmes for managers and professionals.
Featured Training & Development:
Interactive train the trainer programmes offering maximum practice and coaching. Master experiential learning and accelerated learning techniques.
Featured Train the Trainer Workshops:
We custom design or re-design courses to create highly interactive experiential learning programmes.
For companies on a budget, we can prepare a complete training blueprint and templates for participant workbooks, slides, and facilitator's manuals. We'll review your final product and provide feedback.