Career & Private Coaching
Coaching for Trainers, Managers & Professionals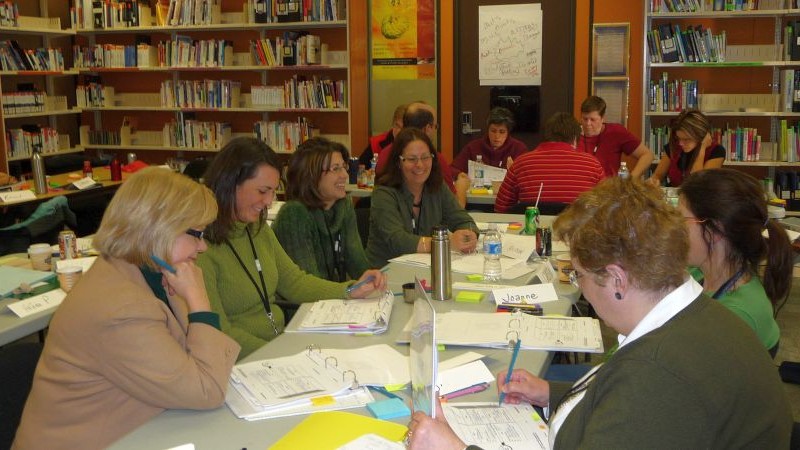 "While career roadblocks can be disappointing, never allow yourself to get stuck there. Often, when some doors are closed, other opportunities will find you. Search for them and seize them."

Anne Thornley-Brown (Forbes)
Succeeding in a turbulent environment can be a challenge whether you are an employee or an entrepreneur. To ensure that you have the skills to thrive in a rapidly changing environment:
identify and monitor key trends that have an impact on your career or business
anticipate and respond effectively to shifts in customer needs
re-chart your course in the face of changing business and organizational realities
balance your career and professional lives
determine when a change of direction is needed
re-chart your course
The Training Oasis, Inc. offers confidential personal training and coaching for managers, professionals and entrepreneurs. Based on an assessment of your needs, personal training and coaching sessions will incorporate 360 degree feedback, interaction styles inventories, career assessment instruments, and confidential interviews with team members and/or clients.
Step into Our Oasis
Since 1996, we have provided private career coaching and personal coaching in the areas of presentation skills, facilitation skills, instructional design, and interviewing skills.
About Your Coach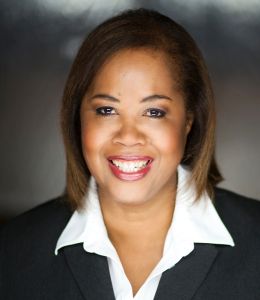 Anne Thornley Brown, MSW, MBA, our President, provides personal training and coaching on a strictly confidential basis. She has first hand experience in navigating career transitions and growing a business in boom and bust economies. She has experienced setbacks, reversals and tremendous success.
She has coached executives and managers and worked with clients from organizations in a variety of industries in 18 countries. These organizations have experienced everything from high growth to mergers to cutbacks and downsizing.
Anne has an MBA from Schulich School of Business at York University in Toronto and 20 years of business experience. She also has an MSW from the University of Illinois (Urbana-Champaign) and extensive experience in counselling and coaching.
Let us Bring Our Oasis to You
The Training Oasis, has designed and facilitated experiential learning and accelerated learning programmes for rapidly changing organizations from over 9 countries. A number of our accelerated learning programmes include private coaching sessions.
We have toured Asia 18 times and served clients in Singapore, Malaysia, Thailand, and India. We have also worked with clients in the Caribbean, the Middle East, and Africa.
For overseas clients and those outside the GTA, we also pleased to offer confidential
On-line Coaching and Consulting Services
Anne was the light at the end of the tunnel, when I was in my corporate rat race. She stood for excellence, creativity and personability. I was surrounded by red tape, goverance and systems. I owe much of my success to teachers along the way and Anne was one of the early pioneers who are unforgettable, impressionable and represent a "life defining moment" in my journey.

Tracey Parnell, C.O.O., Executive Coach, Author & Speaker, Creativity Guaranteed
She was able to bring out the best in everyone including me who was quiet and reserved. Anne was able to coach me to jump in and get over my fears in front of a group.

Marc Shickluna, Former Operations Manager, Bell Mobility
I came to Anne's workshop with the intention to build a career transition plan to move into the multimedia industry. Her workshop allowed me to do just that. It was upbeat, very informative and well organized with excellent in class and post workshop materials. I was hired as an Account Manager at a Multimedia firm in the city. I've gone on to produce and manage many projects for interactive programmes for a variety of companies. This career move has provided me with immense satisfaction and furnished a new sense of professional confidence.

Karen Robbins, Former Account Manager, McGill Multimedia
Anne Thornley-Brown is an excellent mentor who taught me years ago how the training profession operated. With her as my coach, I progressed from being a telephone customer service rep to being a full time trainer in less than a year. A few years after that, I was promoted to Manager of Call Centre Training at one of the largest telecom companies in Canada.

Mike Aoki, President, Reflective Keynotes Inc.
Anne always provided excellent advice to me and her professional development support and counsel were very valuable to me as I launched my career as a Consultant. Over the years, I have come to respect and admire the leadership and innovation that Anne has demonstrated in the field of professional development and training for her clients, as well as other Consultants.

Brian Epstein B.Comm., B.Ed.
Coaching for Entrepreneurs, Individuals & Independent Professionals
For entrepreneurs, a special rate is available:
$250 per hour
$375 for one 1 1/2 hour session
$600 for 3 hour Session
When you have made your selection, please click on the "View Cart" button to check out at our secure server powered by Pay Pal, an Ebay company:
Price US$250.00
Per Hour
Price US$375.00
per 1 1/2 Hour Session
Price US$600.00
per 3 Hour Session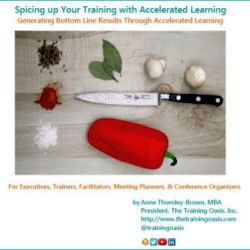 ---
Hot off the Press!
Our new e-book is now ready for purchase.
Spicing up Your Training with Accelerated Learning (PDF)
For a fraction of the price of a train-the-traier session, this 132 page e-book is jampacked with session starters, group exercises, games, brainstorming exercises, energizers, and more to boost the effectiveness of training and conferences!
Download a Preview (PDF)
---
Interactive and highly experiential learning and development programmes for managers and professionals.
Interactive train the trainer programmes offering maximum practice and coaching. Master experiential learning and accelerated learning techniques.
We custom design or re-design training to create highly interactive experiential learning. For companies on a budget, we prepare complete training blueprints to support in-house development.