About Anne Thornley-Brown, MBA
Our Founder & President
Facilitator & Instructional Designer, Experiential Learning & Accelerated Learning
Meet Our Founder & President
Anne Thornley-Brown, Anne was born in Kingston, Jamaica and raised in Montreal. She is a born again Christian. High ethical standards and integrity are at the core of all of her work.
When she is not running her consulting and training companies, Anne works as a professional actress appearing in film, on TV and in TV commercials. She is a member of ACTRA and Canadian Actors' Equity. As a member of the Parole Board, Anne had the privilege of working with Giancarlo Esposito on an episode of the Showtime TV series Street Time. Anne was in the "All Around the Town" episode of the Mary Higgins Clark Mysteries. She appeared as Nurse Royed on the "Complicated" episode of the TV series Doc starring Billy Ray Cyrus, and in Cheating Death, for which she received a complete makeover to play Maureen, an elderly woman.
You'll also recognize Anne from Louis Del Grande's made-for-TV movie Sanity Clause and as Spike's counselor on the international Emmy award winning TV series "Degrassi Junior High". You can see some of Anne's acting credits at TV.com and IMDB
Anne has written Back A Yad, the screenplay for a feature length, coming of age story set to a reggae beat, and Moneylenders, a TV pilot with goes behind the scenes in banking.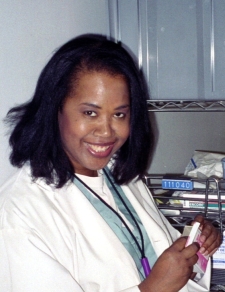 Anne Thornley-Brown as Nurse Royed
Complicated Episode of Doc,
TV Series, Pax-TV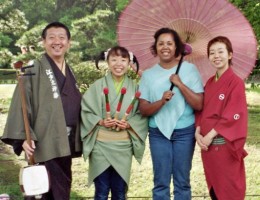 The travel bug bit Anne when she worked as a summer flight attendant for Air Canada while attending McGill. She has travelled extensively both for business and pleasure.
She has been to 24 countries including, Singapore, Japan (Tokyo, Kyoto, Kamukura), Malaysia (Kuala Lumpur, Kuching, Penang, Melaka, Genting, Cameron Highlands), Thailand (Bangkok), India (Bombay), Dubai, Jamaica (of course), Barbados, Bermuda, The Bahamas, Trinidad, Mexico (Acapulco, Riviera Maya, Zacatecas, Tepoztlán, Morelos), Belgium (Brussels), Germany (Frankfurt, Mainz, Bacharach), London (England), France (Paris, Versailles, Giverny), and all over Canada and the USA.
One of a kind presenter and definitely knowledgeable and made the participants very much involved through out the 2-day workshop. Pleasant and warm person to work with and always a pleasure to work with Anne.

Nida Hamid, Project Director (Malaysia)
"Anne is very thorough in her work, uses creativity in putting together presentations, and follows though on her commitments in terms of quality and time. Anne is a positive asset on a training and development team."

Jeannette Lalonde-Bard, Vice-President Human Resources, Bell Mobility
If you want boring, don't call Anne!

Miguel Gonsalves, Director, Continuous Learning, Telus Mobility (formerly Clearnet)
Anne was the light at the end of the tunnel, when I was in my corporate rat race. She stood for excellence, creativity and personability. I was surrounded by red tape, goverance and systems. I owe much of my success to teachers along the way and Anne was one of the early pioneers who are unforgettable, impressionable and represent a "life defining moment" in my journey.

Tracey Parnell, C.O.O., Executive Coach, Author & Speaker, Creativity Guaranteed
If you want boring, don't call Anne!

Miguel Gonsalves, Director, Continuous Learning, Telus Mobility (Toronto)
"You deliver a Cadillac when a Volkswagen will do!"

Donna Edgar, Human Resources Manager (Former), Bell Mobility (Toronto)
Volunteer Work
Polo for Heart
1995 - 2001, 2003
Meals on Wheels
Sunday School Teacher, Shriner's Hospital for Crippled Childen, Montreal
Camp Counsellor, Teen Ranch
Personal Interests
Anne keeps herself busy with her many interests, activities and pursuits. Anne is passionate about polo and she is taking horseback riding lessons so that she can play one day. Her other interests include:
Genealogy
Classical Music
Reggae
Salsa Dancing
Chess
Tennis
Canoeing
In addition to finally identifying some African ancestors, she has traced her family tree to the 1750s, in Jamaica, and, unexpectedly, to 1590 in Scotland, and 1613 in England. Along the way she discovered that Bram Stoker is her 2nd cousin 3x removed and that one of her cousins is married to the actor Blair Underwood. She shared tips in The Huffington Post based on her experiences.
Interactive and highly experiential learning and development programmes for managers and professionals.
Featured Training & Development:
Interactive train the trainer programmes offering maximum practice and coaching. Master experiential learning and accelerated learning techniques.
Featured Train the Trainer Workshops:
We custom design or re-design courses to create highly interactive experiential learning programmes.
For companies on a budget, we can prepare a complete training blueprint and templates for participant workbooks, slides, and facilitator's manuals. We'll review your final product and provide feedback.